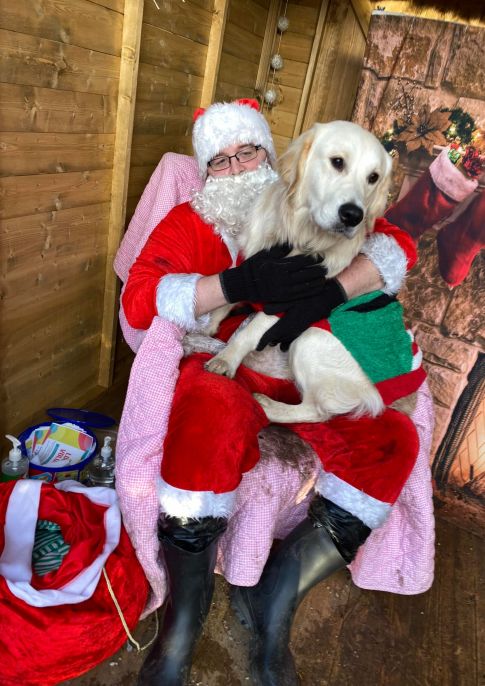 Head High Dog Grotto
Location: Markeaton Park - Craft Village Community Room
Please note there is a maximum of 3 dogs per ticket purchased.
Running Time: 15 minutes - approximate, including any interval(s).
Join us for Head Highs annual Dog Grotto
Join Santa in his grotto with your four legged friend and help raise money for the Charity Head High. There will be a professional photographer on the day to take your festive photo.  This will be emailed to you after the event and it is included in your ticket price.  You four legged friends will receive a treat bag (only if they are on Santa's good list of course!)
Please note their is a maximum of 3 dogs per ticket.  
 Dog Grotto information for owners
If your dog is not social or is reactive to other dogs or noise this is not the place to bring them, as it is a busy event environment
If your dog becomes anxious please remove your dog from the event area
We reserve the right to ask you to leave if we feel your dog is getting overly stressed
All owners must have their dogs under control and on leads at all times whilst in Markeaton Park Craft Village
Please do not leave your dogs unattended or tied up anywhere
Please always ask permission before stroking another dog and make sure children do not run up to strange dogs without permission
Visitors should ensure that their pet/s  are fit and well on event day and that they have not knowingly exposed them to any illness or infection that could be passed to other animals. 
Derby City Council, its partners, traders, contractors, and/or agents are not liable for any illness, injury, loss, damage or death that might occur as a result of attendance at, or participation in one of our events.
Visitors attend the Dog Grotto, do so entirely at their own risk
Head High Dog Grotto
---
---
Sat 2 Dec 2023, 11:15am
£5
Sat 2 Dec 2023, 11:30am
£5
Sat 2 Dec 2023, 11:45am
£5
Sat 2 Dec 2023, 12:15pm
£5
Sat 2 Dec 2023, 12:30pm
£5
Sat 2 Dec 2023, 12:45pm
£5
Show all dates
We think you might also enjoy...