First Festive Derby shows at Derby Market Place on sale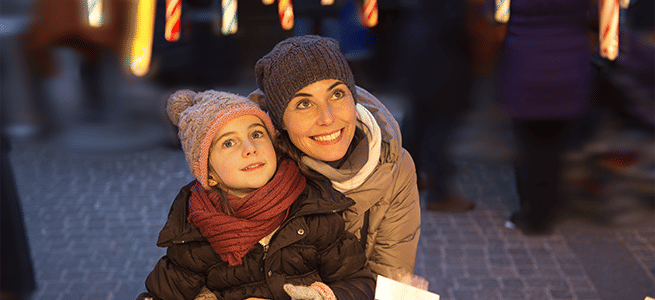 Mon 12 Jul 2021
Christmas may seem a long way off but planning for a fantastic Festive Derby is already well underway and we're delighted to announce our main shows for December in the Derby Loves You temporary venue at Derby Market Place.
Derby City Council is working hard with many partners to bring that real festive cheer to the city centre and both the Babbling Vagabonds, with their new Christmas show The Hungry Troll's Christmas Dinner and The Lost Boys, carrying out Panto: Impossible will be appearing throughout December.
Derbyshire-based Babbling Vagabonds return with a magical heart-warming story with puppets, storytelling, shadows and song, all thrown into the mixing bowl to make the perfect cosy Christmas.
When a strange new dinner lady turns up to school the kids are going to get served up more than a plateful of trouble. Little Billy is overjoyed with the idea of mouth-watering meals until he discovers what's really on the menu for their school Christmas dinner.
The Lost Boys will present Panto: Impossible as spy thriller meets stocking filler in this unique festive production. What could go wrong when the Derby Duo are recruited by the CIA for a top-secret mission, in the enemy country of Sickleovia? The mission should you choose to accept it, stop President Sputum from destroying world peace. How? Through the performance style of pantomime! Expect double agents, double entendres, and dames to kill for! 
A festive show with a difference. The Lost Boys bring their mad-cap energy in a show that combines overblown spy films with Christmas pantos.  A Christmas cocktail that contains a dash of audience participation, a slug of stage fights, a serving of song and dance, all vigorously stirred not shaken with slapstick, plus a whole host of new characters including stiff CIA agents, a vengeful elf, a despotic president, and two loser actors, not to mention a special appearance by the man himself, Father Christmas. 
As well as these two fantastic shows you'll be able to follow trails around the city and explore events, markets, festive street entertainment and more before heading out to Markeaton Park for Family Festivities, including the very popular Dog Grotto and don't forget our pantomime Sleeping Beauty, starring EastEnders' Rita Simmons at Derby Arena.
Councillor Ross McCristal, Cabinet Member for Wellbeing, Leisure, Culture and Tourism said
"With the end of the majority of restrictions just round the corner it's great time to start thinking ahead and to have something to look forward to and I'm really looking forward to Festive Derby.

We've got some great entertainment confirmed with the return of Derby favourites Babbling Vagabonds and The Lost Boys and some great plans which we'll be announcing in the coming months."
Tickets for the shows are available online now and there'll be more information and announcements about Festive Derby activities at visitderby.co.uk/festivederby in the coming months. You can also book via the Sales and Information centre on 01332 255800.
The Hungry Troll's Christmas Dinner will run from Fri 3 Dec through to Thu 30 Dec. Tickets for this all ages family show are £14 for a standard ticket with under 16s £11, or a family ticket for two adults and two children for £46.
Panto: Impossible will run from Fri 10 through to Wed 22 Dec. Tickets for the show, suitable for ages 12+, are £15 for a standard ticket with under 16s £12. Groups bookings of 4 or more will receive a 10% discount.