Myzone July Challenge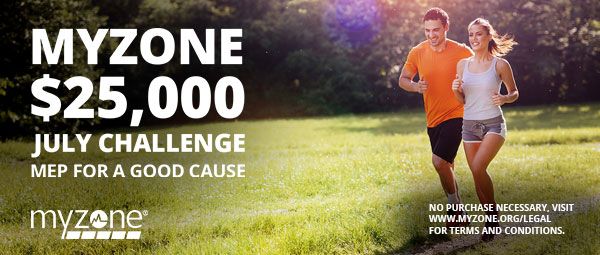 Tue 30 Jun 2020
Myzone $25,000 USD Challenge - MEP for a good cause
As the current state of the world continues, it is natural for everyone to find themselves longing for some good news. That's why we are excited to announce our Myzone $25,000 USD MEPs Challenge: MEP for a good cause!
Simply earn 1300 MEPs throughout the month of July and be entered into a prize draw to win $500 for your chosen charity, $500 for yourself and 10 Myzone MZ-3 belts for your facility, with an RRP of $1,500. There will be ten winners, with a combined total value of $5,000 donations to charity, $5,000 prize fund for the winners and $15,000 Myzone MZ-3 belts for the member's facilities.
WHO: All Myzone users.
WHAT: Myzone $25,000 USD Challenge - MEP for a good cause, between 1st and 31st July 2020.
WHERE: Exercise anywhere, you just need to wear your Myzone belt and upload your data.
WHEN:  1st – 31st July 2020.
HOW: To enter, simply follow the prompt to 'opt-in' to the Challenge when this is presented within the Myzone App.
WHY: We all know that exercise is the best medicine, to boost our physical, emotional and mental well-being, but did you know selflessness also has a direct correlation to increasing happiness? Every selfless act increases our sense of connectedness, decreases feelings of depression, loneliness, and anxiety whilst also improving our emotional resilience too. With many charitable fundraisers being forced to cancel events, charities need our support to help raise crucial funds. Together, let's earn some MEPs for a good cause.
Myzone Challenges are administered and sponsored by Myzone Inc.
No purchase necessary to enter or win*.