The Orangery & Craft Village

Come and take a look at what's on offer at the Orangery Cafe and the Markeaton Park Craft Village! With lots to see and do, it's a great day out for the whole family.
Markeaton Park Craft Village and Orangery is located in the heart of the park, surrounded by high medieval stone walls. This area was once the eighteenth century Hall and stables, but now provides an amazing shopping and refreshment experience. The stables are home to over eight unique craft units providing that exclusive gift, while tantalising your taste buds at the Orangery Café and Ice cream hut.
How to find The Orangery and Craft Village 
There are three entrances into the Craft Village and Orangery, located from near the Duck pond, a small gateway to the side of the high walls or through the main orangery doors looking out onto the formal gardens.
As the Craft Village and Orangery is located in the centre of the park, access is by foot along excellent pathways.
Parking
-          Car park A, entering from Markeaton Park roundabout off the A38, followed by a short walk down the main pathway past the tennis courts, which the Orangery Café and formal gardens will face you.
-          Car park B, entering from Markeaton Lane you will enter Mundy Play car park. Walk through the Mundy Play area, over the small bridge where the duck pond is located, you will then see the lower entrance archway into the Craft Village.
-          Car park C, this can be accessed by driving through the Mundy Play car park following the drive way into a high walled area. A gateway in the wall will lead you onto the footpath, take a left and you will see the lower archway entrance into the Craft Village.
The Orangery
Telephone: 01332 611798
The recently refurbished Grade II listed Orangery cafe overlooks Markeaton Park's formal gardens. It is found in the Craft Village, overlooking the terrace garden. 
With both indoor and outdoor seating the Orangery is the perfect place to meet friends or take a well earned break and enjoy great coffee and other treats.
Open throughout the day serving breakfast items, light bites, hot snacks, a range of delicious cakes, ice creams and slush.
Our food is prepared fresh on site.
Enjoy your favourite coffee- your way. We have a selection of milks to choose from including cow's milk semi-skimmed together with almond, soy and oat milk.
Opening times 1 Nov - Apr 2022 
Monday - Friday 9.30am - 4pm
Saturday - Sunday 9am - 4pm
Craft Village
The Craft Village opened in 1987 using the old stable yard at the centre of Markeaton Park. Workshops and businesses sell handmade goods and gifts, and many run activities and events.
Paint a Pot
Telephone: 01332 202652
A fun and relaxing place for people of all ages to come and create something unique. Paint a Pot allows you to choose an item from their large selection to decorate and take home. Take a look at their website for details on opening times and prices.
Studio Gift Shop Markeaton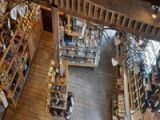 Telephone: 01332 298274 or 07485 479691
A rustic gift shop selling gifts, homewares, greeting cards and indoor and outdoor toys. Also on offer, is huge range of hand-poured vegan wax melts, delicious hand-crafted fudge and a Dog Deli selling 100% natural dog treats.  Open 7 days a week 
We are also a listed Annie Sloan Chalk Paint Stockist.
Lilac Joinery
Telephone: 01332 203596
Produces garden furniture, play houses and children's furniture. Come and have a look at what's on offer!
Open every day from 10am to 4pm.
Redtree Furniture
Telephone: 01332 292288
Watch Matthew Morris create his beautiful hardwood furniture and see pictures of his work. He specialises in architectural joinery.
Jumping Clay
Telephone: 01332 460079
Air Drying Clay at its best. Mess-free, fun-filled activities. We teach model making through assimilation of basic shapes and colour blending. Choose freestyle or model of the day, taught step by step.
Courses or one-off sessions are available.
Come for a 20-minute mini make 1-2 hours session or make use of our Ofsted registered facility and get the kids to come all day in the school holidays. Booking is recommended but drop-ins are often available. We also do great birthday parties and teach traditional art to adults and children.
Little Tins of Loveliness
Little Tins of Loveliness website
With a passion for making through courses and workshop, plus their carefully designed Little Tins kits have beautifully illustrated step-by-step instructions as well as high quality fabrics and components.
Take a look at @littletinsofloveliness on Instagram or @littletinsofloveliness Facebook for details on forthcoming courses, opening times and prices.
Susan Hill Jewellery
Telephone:  07970 850615
Jewellery and Silversmithing Workshops
Individually designed & handcrafted sterling silver & gold jewelry, bespoke orders, and commissions are always welcome. Come and take part in Jewellery & silversmithing workshops taking place through the year at my studio - full-day, half-day, evening, and individual classes available - see my website for full details. Also, visit me for handmade and unique gifts available in my studio shop. No experience is needed.
Art in the Park
Phone: 01332 460909
We provide a variety of classes covering a range of materials; from hosting the popular 14 week "Seasons" course (covering pencil, pastels, watercolour and acrylics) to short courses and one off lessons covering Oil Painting, Glass Painting, Mosaics and Collage.  We provide both adults and children's courses (in separate classes). 
Take a look at Art in the park Facebook for details on forthcoming courses, opening times and prices.
Derbyshire Fine Foods
Derbyshire Fine Foods have been trading as a developer, manufacturer and sales company for more than 20 years specialising in a wide range of savoury seasonings, sausage mixes and sauces for supply to the catering and butchery industries.
Our latest venture and extension to the company in 2022 is the development and opening of our retail & development outlet shop in the craft village within the lovely Markeaton Park.
In addition to showcasing our own wide range of pots of seasonings and bottles of cooking sauces we are supporting and stocking a varied range of products from small food producers operating within the county of Derbyshire.
These include hand blended speciality teas from Cup & Saucer, bespoke selection of roasted & ground coffee from Northern Tea Merchants, a selection of flours and porridge oats from Caldwell's Mills, a gourmet range of savoury & sweet crackers and biscuits from Artisan Biscuits, a range of local honey from Ogston Farm, handmade marshmallows from Adanda, a selection of blended flavoured cooking oils from Brock & Morten and last but certainly not least a range of high quality yummy chocolates & truffles from Holdsworth Chocolates.
Coming soon will be an extensive range of beers, ciders and gins all produced from within our amazing Derbyshire countryside of breweries and distilleries.
If you are enjoying a walk around the park, popping into the Orangery Cafe for a brew or attending an event please feel free to pop into our shop, say hello to Chris and Martin and have a browse at our goodies for sale.
If you need some inspiration for our pots of seasoning and bottles of cooking sauce we would love to help you with any advice and recipe ideas.
Derbyshire Fine Foods Facebook
Email: derbysffsales@aol.co.uk
Teddy Tastic
Make a furry friend that you will love. Lots of different teddies to choose from. An extra special build a bear workshops and birthday parties experience. "A magical experience for all ages". Run by the wonderful Jumping Clay team.
Telephone: 01332 460079
Email: derby@jumpingclay.co.uk