This is a past event that has already taken place. Sorry if you missed it, find out about future events on our what's on page.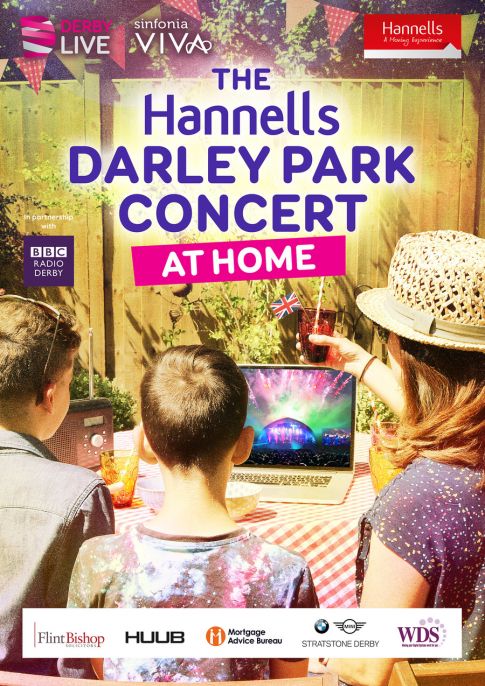 Music
The Hannells Darley Park Concert at Home
Sun 30 Aug 6pm and available to view online for 7 days
Location: Online and on BBC Radio Derby
Settle in with your picnic and something sparkling for our classic outdoor concert, in your own backyard!
Tune into BBC Radio Derby at 6pm to listen to the concert, with coverage from 4pm too. 
Watch the concert online here from 6pm and click the play symbol.
Social Media
View the #Darley20 social media wall here.
Get updates on our Facebook Event
Owing to the continued need for social distancing and to ensure the safety of the public, no date has yet been given for when large-scale public events can be held again. This means it is not possible for this year's concert on Sunday 30 August to go ahead as planned.
So instead, Derby LIVE is teaming up with Sinfonia Viva, the orchestra of the East Midlands supported by Rolls-Royce, and BBC Radio Derby to bring The Hannells Darley Park Concert to audiences at home. On the same date as the original event, viewers and listeners will be able to rediscover highlights from last year's show along with new performances, commentary and interviews, on BBC Radio Derby and online.
New content will include pieces recorded by a cabaret band of seven musicians from Sinfonia Viva under socially-distanced conditions, led by conductor James Holmes, a familiar face from the Darley Park Concerts who was due to lead this year's live event.
Celebrated Derbyshire vocalist Andy Quinn, who specialises in Big Band and West End numbers and delighted the crowds at The Hannells Darley Park Concert in 2018, has confirmed that he will also be performing.
As well as celebrating live music, The Hannells Darley Park Concert is renowned for bringing the community together. This year a social media wall will allow audience members to share photos of how they're recreating the concert in their home or garden, share messages and interact with the BBC Radio Derby studio.
Last year's concert celebrated 1969 and Golden Anniversaries through a programme of music put together by the Grammy-nominated Sinfonia Viva, introduced by Andy Twigge and Steve Jordan of BBC Radio Derby. After an atmospheric start with Also Sprach, the theme from the classic Sci-Fi film 2001 A Space Odyssey, crowd favourites included the Derby County theme, Steve Bloomer's Watchin', performed as never before. Soloist Grant Doyle, who has sang more than a dozen roles for the Royal Opera, was another highlight.
The conductor from last year, Ben Pope, is re-mastering the sound for this year's broadcast and will also present live introductions to each piece of music.
Full line up (timings are appoximate)
6pm: Introduction by Andy Twigge, followed by the Sinfonia Viva Cabaret Band, featuring Andy Quinn, performing:
Oh Gee Oh Joy - George Gershwin
Younger than Springtime - Rodgers & Hammerstein, from the musical South Pacific.
Georgia on my Mind - Hoagy Carmichael, forever associated with Ray Charles.
My Baby Just Cares For Me - Walter Donaldson and Gus Kahn, famous for Nina Simone's signature version.
6.30pm: The first half of The Hannells Darley Park Concert 2019, with introductions and commentary from Ben Pope and Andy Twigge. Vocal performances by Grant Doyle.
Opening of Also Sprach - Strauss R. Made famous by the film 2001 A Space Odyssey.
Blue Danube - Strauss J. Arguably the most well-known waltz.
None But The Lonely Heart - Tchaikovsky
Here Comes The Sun – Beatles
Liberty Bell – Sousa. Perhaps better known as the theme from Monty Python's Flying Circus.
Nimrod - Elgar
Run Away Train - Warren
Music of the Spheres – Strauss J
Slavonic Dance 46/8 - Dvorak      
7.30pm: Derby Jazz
7.55pm: Sinfonia Viva Cabaret Band, featuring Andy Quinn:
20th Century Blues – Noel Coward
The Ballad of Mack the Knife – Kurt Weill
This is the Moment - Leslie Bricusse & Frank Wildhorn, from the musical Jekyll and Hyde.
8.10pm: The second half of The Hannells Darley Park Concert 2019, with introductions and commentary from Ben Pope and Andy Twigge. Vocal performances by Grant Doyle.
Ace's High March - Goodwin
Gold and Silver Waltz - Lehar
Black and White Rag - Botsford
Come Fly with Me – Van Heusen
Steve Bloomer's Watchin' – Brady. For all the Rams fans.
Summer of 69 – Bryan Adams
Light Cavalry Overture – Suppe. Featuring fireworks.
Land of Hope and Glory - Elgar. Ending with last year's spectacular fireworks.
Supported by
Hannells, Flint Bishop, HUUB, Mortgage Advice Bureau, Stratstone BMW and MINI Derby and WDS Limited.
We think you might also enjoy...