Do you know how many minutes to exercise a week?

Fri 29 Jan 2021
How many minutes of exercise per week?
The NHS and Live well guidance recommend 150 minutes (less than 22 minutes per day) of moderate exercise per week or 75 minutes (less than 11 minutes per day) of vigorous exercise or a combination of the two.
This guideline is aimed at encouraging more movement and reducing the time spent sitting or lying down. At the moment with many of us working from home, there is potentially a reduction in activity without the commute to work. Currently, we lack in the activity we engaged in prior to COVID, by cycling, walking either to work or to public transport, which in turn is reducing the number of minutes per week we spend doing some form of moderate exercise. 
It is widely documented as to the benefits of exercise which include:-
Health benefits -reduce the risk of many major diseases such as heart disease stroke, type II diabetes
Many moderate exercises are free
Mood booster
Improvement in sleep quality
Increased energy levels
Aid weight loss
So how can exercise be included in your day?
Get up 15 to 20minutes early and go for a short walk before breakfast
Tune in to the online classes currently being offered by Derby Active. There is something for everyone
Take the dog for a walk and add on an extra 10 minutes or speed up the pace
Download some of the available free Apps such as Couch to 5k
Get out in your garden and start to prepare the ground for Springtime
Wash your car instead of using a drive-through wash
Get your bike out of the shed and go for a ride
So you are exercising but how do you know whether it is at the right level or intensity often referred to the Rate of Perceived Exertion or RPE. Feeling based is a good way if you don't have the many smart sports watches that are available to control our exercise for us.
How should you feel during various intensities:-
Moderate Intensity 
Vigorous Intensity  
Very Vigorous Exercise

Feeling warm
Breathing faster than normal 
Your heart rate should be slightly raised 
You can still talk/hold a brief conversation

Sweating
Rapid breathing
 Heart rate raised
Able to say a few words 

Excessive Sweating
Finding it hard to breathe 
Heart rate 85% plus of max
Unable to speak more than one word
Not able to sustain this activity for long and needing rest between the next activity. 
To give you some ideas of the various intensities and what level each exercise is.
Examples of Moderate exercise
Brisk walking
Bike riding but a steady pace of less than 10miles per hour
Dancing
Gardening such as sweeping, digging or mowing the lawn
Hiking with some elevation
Rollerblading
When other activities are open again playing doubles tennis, water aerobics etc
Light Strength training such as bodyweight exercises
Examples of vigorous exercise
Jogging or Running
Swimming at a pace that increases your heart rate
Riding a bike fast or on a hilly route
Walking upstairs or on an elevation
Contact sports such as football, Rugby, Netball and Hockey
Skipping with a rope
Aerobics
Gymnastics
Martial Arts
Strength training with weighted resistance
Examples of Very Vigorous exercise
Lifting Heavy Weights
Circuit training
Hill Sprinting
Interval Training (HIIT)
Running upstairs
Indoor cycling classes
So, how can we help you increase your activity while at home? 
Why not join in the Derby Active February challenge? We have a free fun game, which will increase your exercise minutes each week by 10% on the recommended minutes, also helping you to engage with others improving your overall wellbeing. 
SO JOIN IN AND HAVE FUN - find out more here.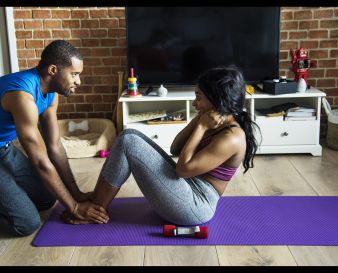 Question and Answer with Gaynor Derby Active Health and Wellbeing Advisor